---
Updated 05/23/12 by Leta Shy
Hopefully this weekend will involve some fun in the sun, but that doesn't have to be limited to sipping a frozen cocktail on a deck chair. To get you inspired for an outdoor sweat session, we've rounded up some fun fitness routines for the beach — check off your daily workout for the day while enjoying the sun!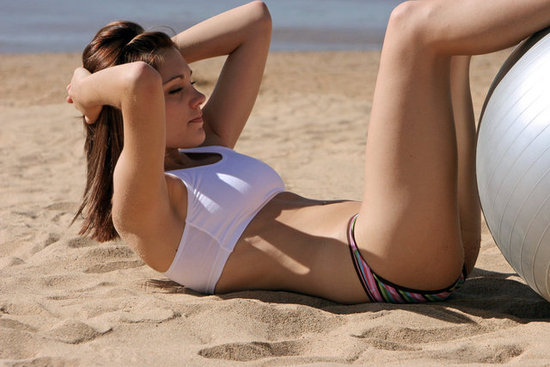 Fit and fast: Got 12 minutes? Do this simple CrossFit circuit workout as hard as you can. Bonus: after the intense session, all you have to do is take a dip in the sea!
Leg up: Want to tone legs and thighs? This leg workout from a FitSugar reader helps save your knees from too many squats — and you can do the moves while laying out in the sun.
On the ball: If you happen to have an exercise ball handy, this Kerri Walsh-approved full-body workout will get you in pro-athlete shape.
More beach workouts to inspire you after the break!
Sand run: On that note, if it's serious sweat you're after, try this training tip from Kerri's Olympic partner Misty May-Treanor: 10- to 15-second beach sprints. You'll torch calories in no time!
Morning wake-up: If you're lucky enough to be spending the holiday beachside, now's the time to replace that morning coffee fix with these eight morning yoga moves on the beach to energize the natural way.
Grab a partner: When it comes to beach workouts, the Tone It Up ladies are experts. Follow their lead and grab a buddy and get inspired by their full body beach babe workout.
can always find out more at fitsugar